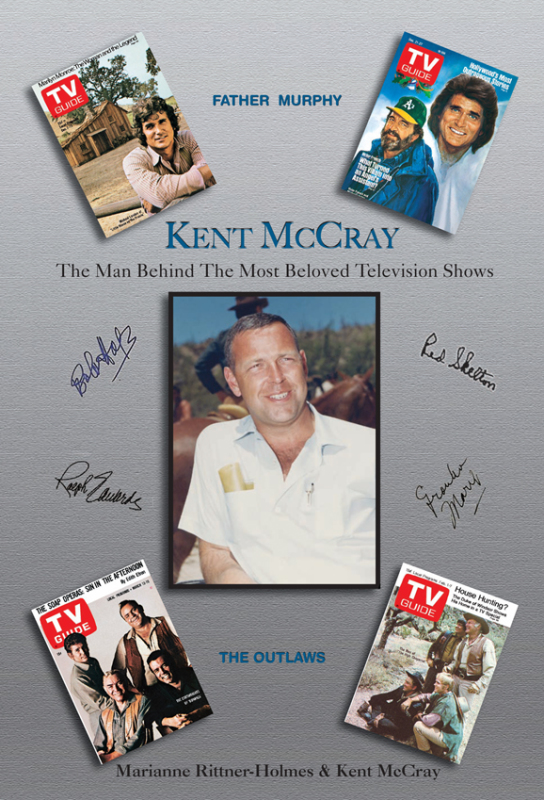 KENT McCRAY: The Man Behind the Most Beloved Television Shows
by

Marianne Rittner-Holmes & Kent McCray

Imagine sitting in the home office of a production manager/producer who spent 50 years in television, from the explosion of live TV to its transition into videotape and film, from technology innovations that include black-and-white to color.  

With that backdrop, imagine that same man relating behind-the-scene stories about such historic television shows as Bonanza, The High Chaparral, Little House on the Prairie and Highway to Heaven.  These shows still air on TV today, 50+ years later.  

Sit in with Kent McCray as he relates his time with Bob Hope, Milton Berle, Groucho Marx, Red Skelton and Ralph Edwards.  Listen to Kent's insights about Michael Landon delivered in Kent's down-home manner.  They'll make you smile and make you teary-eyed.
What People Are Saying About

Kent McCray, The Man Behind the Most Beloved Television Shows

"There should be a saying: 'behind every successful man is Kent McCray.' Kent was not only my Dad's best friend and like a brother that he never had, but he also helped build the foundation to my Dad's success. Kent knew my father inside and out, and they always had a friendship that was built on love, mutual respect and admiration for each other.

In this book, Kent gives you the behind-the-scenes look into his illustrious career working with the greats, from Bob Hope, Red Skelton and Groucho Marx to my father Michael Landon, and many more! Kent's storytelling and sense of humor is brilliant, and you will understand why he had such success as head of production for so many years in television entertainment. There are so many great stories from this man that I hope a second book is being written!"

---Leslie Landon Matthews, Michael Landon's daughter

"...a book unlike no other ever written about TV. Production Manager and Producer McCray gives us a deliriously fascinating insider's look at the sweat, tears and often ungodly hours it took to produce TV series like "Outlaws", "Bonanza", "High Chaparral", "Little House on the Prairie" "Father Murphy" and "Highway to Heaven"...As told to Marianne Rittner-Holmes this book captures in Kent's own words, an historic 50 year career in television, all against the backdrop of current events that often shaped the industry. As Kent writes, "Most of the books you read are about actors. A lot of them don't get into the nuts and bolts of what it takes to do the job and that's what I've tried to relay." McCray does it, without question, marvelously!"

Boyd Magers